Featured January 15, 2018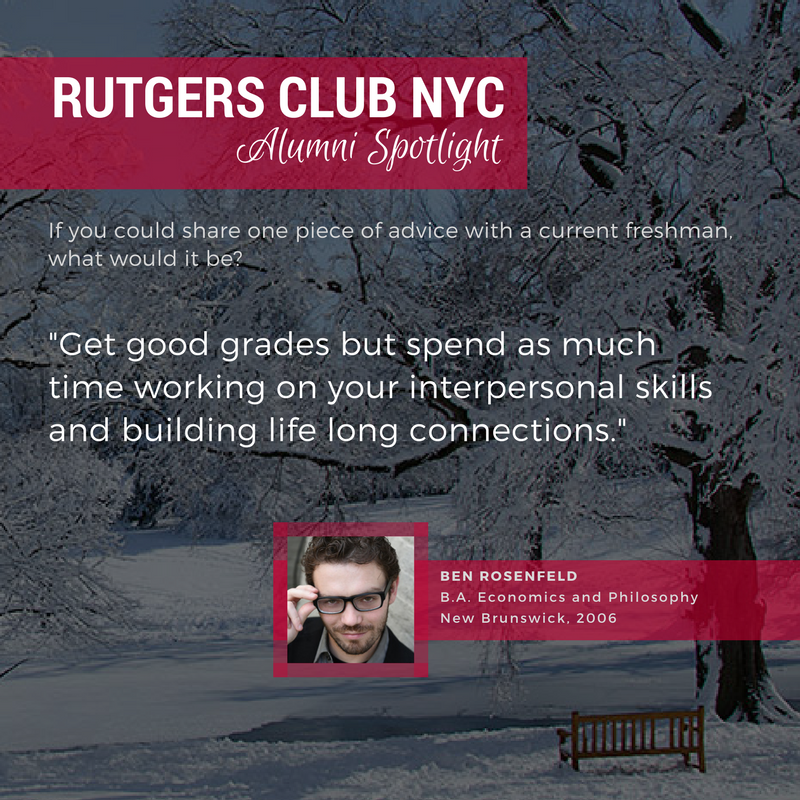 Name: Ben Rosenfeld
Current Profession/ Job Title: Entertainment / Comedian
Current Place of Residence (City or Borough): Astoria, NY
Hometown or Place of Origin (prior to Rutgers): Stamford, CT

Class Year: 2006
Campus Affiliation: New Brunswick – College Avenue

Rutgers School or College Affiliation(s): Rutgers College

Rutgers Degree(s)/Major(s): B.A. Economics and Philosophy
Favorite Place to eat on campus: Thai Noodle and Stuff Yer Face
Give us one word to describe your Rutgers experience?: Fun

What is one thing you learned at Rutgers that has helped prepare you post-graduation professionally or personally?: How to manage my time when I have complete control over my schedule.
What is a part of your identity that you discovered while at RU (passion for something, political beliefs, etc)?: Writing comedy and travel.
How has your Rutgers education or network help get you where you are today?: If I hadn't met my freshman year roommate, I may have never gotten into comedy, as he was already doing it.
If you could share one piece of advice with a current freshman, what would it be?: Get good grades but spend as much time working on your interpersonal skills and building life long connections.
Final thoughts or reflections?: Go RU. We're going to a bowl game next year 🙂