Featured February 15, 2018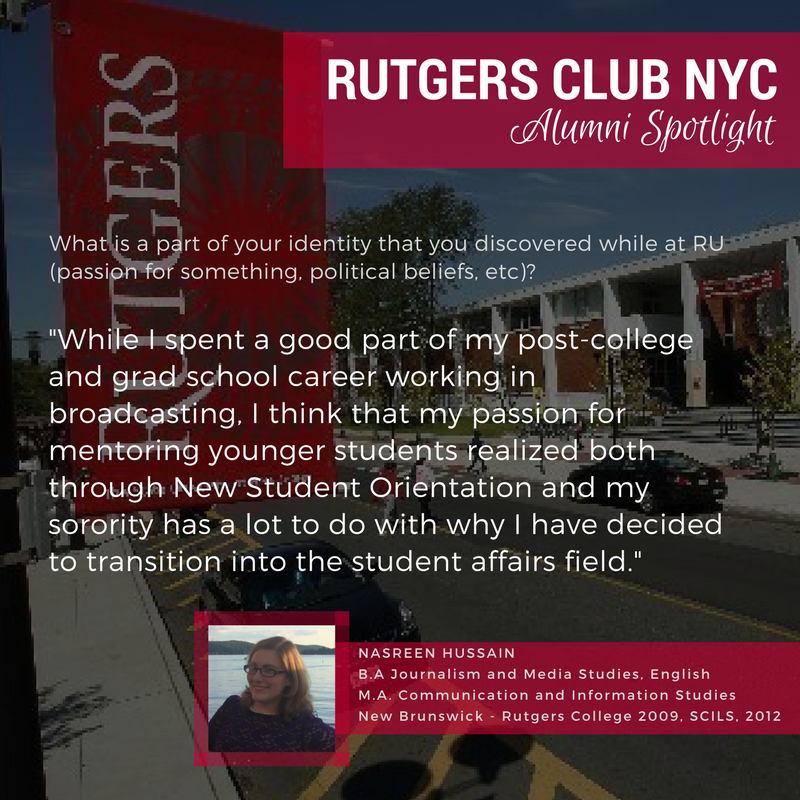 Name: Nasreen Hussain

Current Profession/ Job Title: Higher Education/ Student Success Coordinator

Current Place of Residence (City or Borough): Bronx, NY
Hometown or Place of Origin (prior to Rutgers): Piscataway, NJ

Class Year: 2009
Campus Affiliation: New Brunswick

Rutgers School or College Affiliation(s): Rutgers College

Rutgers Degree(s)/Major(s): B.A. Journalism and Media Studies, English

Favorite Place to eat on campus: King Pita in the Rutgers Student Center
Give us one word to describe your Rutgers experience?: AMAZING!

What is one thing you learned at Rutgers that has helped prepare you post-graduation professionally or personally?: Through my involvement on campus I met people from all walks of life, some were very similar to me, others couldn't be more different, but in meeting all these people I learned how to work alongside others, despite differences. In the working world, you will interact with many people, and being able to effectively communicate is an important skill.
What is a part of your identity that you discovered while at RU (passion for something, political beliefs, etc)?: While I spent a good part of my post-college and grad school career working in broadcast, I think that my passion for mentoring younger students realized both through New Student Orientation and my sorority has a lot to do with why I have decided to transition into the student affairs field.
How has your Rutgers education or network help get you where you are today?: Rutgers is an amazing school, with world renowned faculty, at a fraction of the cost of other schools in our area. Both through my classes, and my involvement on campus, I was able to build a large support system to help me post-graduation, and well into my career. There's always someone I can contact for a reference or for career advice, and I love that.
If you could share one piece of advice with a current freshman, what would it be?: Don't spend every second of your college career in class, studying, or in your room. Yes, being a good student is important, but you should also try and make the most of your college career. Join clubs, meet different types of people, gain passions … a lot of those are things you learn outside of the classroom in clubs, or at internships, or even parties and campus events.
Final thoughts or reflections?: RU RAH RAH!